Dhanushkodi and Kachchatheevu are among the lesser known destinations in Tamil Nadu. While Dhanushkodi is located at the southern tip of Rameswaram, Kachchatheevu is a popular catholic shrine located on the Sri Lankan side of the maritime boundary. Tourists can enjoy visiting both these cities on their
Rameswaram tour packages
.
The Secret Island of Dhanushkodi
Dhanushkodi
– Considered to be a holy spot, there are many mythological stories associated with Dhanushkodi. Located at the South east Pamban, Dhanushkodi is merely 30 km from Sri Lanka and has the only border between India and Sri Lanka. Pilgrims come to take a dip in the holy water of Dhanushkodi. The region was once connected to Pamban with a railway line but the infamous storm in 1964 destroyed it and hence tourists need to either take jeep, tempos of the fisherman or walk through the sand dunes in order to reach Dhanushkodi. Dhanushkodi in Rameswaram is a popular pilgrim destination and a must visit for those planning to
holiday in Tamil Nadu
. Dhanushkodi is well connected to many other cities like Chennai, Coimbatore, Tiruchy and Tanjavaur. Besides indulging in ritual baths, tourists can also explore the various monuments. At the end of Dhanushkodi lies the popular chain of rocks which is believed to be the famous Rama's bridge, constructed by Lord Ram.
Remains of the Church at Dhanushkodi
Pamban Bridge that connects Rameswaram to Indian Mainland
Kachchatheevu –
A small uninhabited land administered by the Sri Lankan government, Kachchatheevu was a part of India till the year 1974. The island is only 1.6 km long and 300 mt in breath and a popular picnic spot. It is a sacred place famous for its catholic shrine. It is one of the few places which share its borders with India and Sri Lanka and it is a visa-free zone, meaning one requires an Indian or Sri Lankan visa in order to visit Kachchatheevu. St Anthony's Church is the only standing monument there and the best time to visit is during the annual three day church festival held in March. There is nothing available on the island and even food and water is brought over from Rameswaram. This is a quiet and peaceful place where one can enjoy the clam blue water of the Palk Straits. Boats are the only means of transport available from Rameswaram. You can come to Kachchatheevu by taking up Rameswaram
tours in South India
.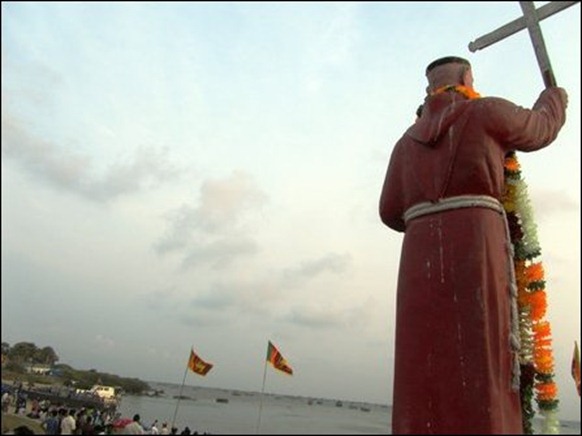 Catholic Shrine at Kachchatheevu
For those planning a holiday in Rameswaram or taking up
tours of Kanyakumari
are recommended to include a trip to Dhanushkodi and Kachchatheevu, which are the two most enchanting places in Southern India.
Sunset at Kanyakumari